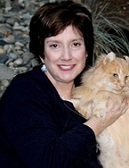 Discovering her true passion and inspiration in mid-life, California artist Claudia Sanchez has been painting and creating ever since. Her positive attitude, perseverance, and enthusiasm all add up to one winning combination called Claudia's Cats™!
Two of her loves – color and cats – come together to create her characteristic brightly colored feline artwork. Almost always inspired by real cats, Claudia's Cats depict cats and their personalities in various, and often humorous, situations and locations around the world. Each color-drenched fabulous feline is a character with a story - and sometimes several Claudia's Cats team up to reveal the full tale. Self- taught, Claudia uses her own unique mixed media style that she calls abstract realism to create her brightly colored images. Letting each cat reveal just some of their secret life and story is part of the fun she mixes into the artwork.

And she adds, "My cats always have gold whiskers. They are like rays of sun, reminding us that the sun shines every day." Take one cat, add pink sunglasses, a dash of humor, and the signature gold whiskers - and that's a Claudia's Cat. Claudia's Cats have enjoyed being in galleries, exhibitions and shows, and homes around the world for over 15 years. Whether cat lover or not, collectors are inspired by Claudia's passion as an artist and the vibrantly colored Claudia's Cats with their amazing escapades!

To fulfill her desire to share her art and its inspiration more broadly, the full Claudia Sanchez Claudia's Cats Collection is now available for licensing. Claudia is particularly interested in pursuing apparel, stationery and paper products, home décor, gifts and collectibles, bedding and textiles, and pet product opportunities.
Claudia's Artistic Philosophy:

"I believe that I have optimized the use of my design education along with my artistic talent to create a unique painting style. Color motivates me tremendously; and in my everyday life, I am always noticing the color schemes around me. Color is usually the most noticeable feature of my artwork; however, various other design elements such as shape, pattern, and texture are also incorporated into my designs. These basic design elements are what comprise my particular painting style. I love painting abstracts; however, many people need to identify with a subject. It was for this reason that I decided to combine my love of cats with my personal painting style to create brightly colored, abstract cats! Add to this a positive attitude, perseverance, and all of the enthusiasm I feel for my subjects (most of whom are real cats), and it adds up to one winning combination."